2013年08月01日
2. Planning
A planned city based on the neighborhood unit theory
In Senri New Town, a master plan was first formulated, and then roads, railways, parks, schools, retail shops and other elements were provided both comprehensively and systematically based on the neighborhood unit theory. This was an entirely different approach from the old urban development. While bringing together the wisdom of Japan, the plan incorporated many advanced case studies of new town projects of the West.
【Senri Housing Project Development Plan】
Districts and neighborhood units
The entire site was divided into three districts; south, north and center, which were subdivided by main roads into a total of 12 neighborhood units (primary school districts), named by either ending with "dai" or beginning and ending with "Shinsenri/machi" respectively, in which Neighborhood Centers and parks were allocated. The neighborhood units consisted of 60 to 100 hectares each. The neighborhood unit theory systematized by the American, Clarence Perry in the 1920s, is one of the concepts that encouraged the construction of 20th century new towns.
Diverse mix of housing types
With the aim of creating harmonious communities consisting of various and different residents, all types of dwelling were provided including detached houses, collective housing (consisting of public rental units by the Osaka prefectural/municipal governments/Osaka Prefectural Housing Corporation/Japan Housing Corporation (present Urban Renaissance Agency), and public/private units for sale), as well as company housing. Allocating collective housing in the center of each neighborhood unit and detached houses on its periphery, it was designed to create a townscape where residents benefit from quick access to key facilities.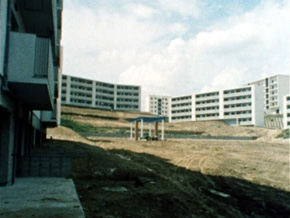 Rich green spaces and safety
Out of the total area of 1,160 hectares, 42% is residential, of which the detached houses and collective housing ratio is about the same. Abundant space was allocated to public spaces such as roads and parks, especially parks and other green areas, which occupy approximately 21% of the total area. In order to protect the environment, the entire New Town site is enclosed by a surrounding green zone, while every district and neighborhood unit is dotted with parks. This lavish amount of vegetation is the strikingly unique feature of Senri New Town, exceeding by far that of collective housing complexes built before it and the new towns that followed it.
Another feature is that the traffic lines of pedestrians and automotive vehicles are separated as much as possible to maintain the safety of residents. Enclosing open spaces with buildings, while making good use of the varied topography of its hilly land form, the Radburn Layout was introduced in which cul-de-sacs running off the main roads were planned throughout as service areas, providing residents with spacious and quiet open spaces.
Photo courtesy of the Osaka Prefectural Government